The causes of the attacks are still unfolding but previous outrages show that terrorists often strike close to home
Revenge strike? Evidence of a new cell and incompetent security services? A sign that the network of Salah Abdeslam, the logistician for last year's Paris attacks who was arrested in Brussels on Friday, is still functioning? Or – given that we still have very few details of Tuesday morning's events – none of the above?
The explosions in Brussels underline various basic and important points.
The first is that, clearly, any threat from Islamic militants to Europe may rise and fall, but does not disappear when a single figure is arrested, however much he was sought. The "major blow" struck on Friday, as senior policymakers called it, now looks less major
The second is that both terrorists and those trying to stop them seek to keep the initiative. This has a practical and a psychological aspect. For counter-terrorist agencies, the aim is to get information fast enough to mount raids and sweep up suspects before they even have time to work out who among them has been picked up and who might have talked, let alone plan a new strike. Networks quickly fall apart under such relentless pressure, as was shown in Iraq in the middle of the last decade.
For the terrorists, the aim is to show they can still terrorise, mobilise and polarise with violence. This is not so much about revenge, but simply demonstrating a continued capability. They may be down but, they are saying, they are not out.
It is also very possible that the extremist network wanted to act before security agencies acted on any information divulged by Abdeslam, who is known to have backed out of a suicide attack and may have been considered by his erstwhile co-conspirators as likely to cooperate with authorities.
Belgium's foreign minister, Didier Reynders, said on Sunday that Abdeslam had told investigators he was planning a fresh attack in the capital. "He was ready to restart something in Brussels, and it may be the reality because we have found a lot of weapons, heavy weapons, in the first investigations and we have found a new network around him in Brussels," Reynders said.
That network may have been able to act before security services rolled it up. It is possible it includes two other men suspected of playing major roles in the Paris attacks and who have been on the run since November.
Mohamed Abrini, 31, a Belgian of Moroccan origin, disappeared after allegedly playing a key part in the planning and logistics of the November attacks. He is a childhood friend of Abdeslam – their families used to be next-door neighbours in the Brussels neighbourhood of Molenbeek, where several of the Paris attackers were from – and was described on his international arrest warrant four months ago as "dangerous and probably armed".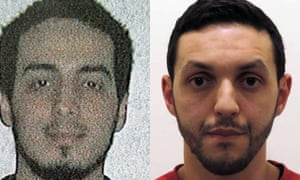 Police are also hunting for a suspect known until recently under the alias Soufiane Kayal but now identified by Belgian investigators as Najim Laachraoui, believed to have travelled to Syria in February 2013. He presented false papers under the alias when he was checked at the Austria-Hungary border on 9 September, and was travelling with Abdeslam and Mohamed Belkaïd, a 35-year-old Algerian who was shot dead on Tuesday during a police raid in Brussels. The three men had posed as tourists heading to Vienna on holiday and did not raise suspicions.
But the network will include many others. It is clear from the amount of time Abdeslam spent on the run that he was looked after by dozens, if not scores of contacts. This is the reality of contemporary Islamic extremism in Europe. It is not about so-called lone wolves or solitary actors, but about a small but significant number people who are deeply embedded in broader communities or neighbourhoods.
These people either share the attackers' extremist views, or are at the very least prepared to support them out of friendship or family ties, or both. Studies have shown that a very high proportion of militant attackers talk to others in their close social circles, hinting at their plans.
Some go to the police. A tipoff from within the community is believed to have led security forces to Abdeslam last week, according to French media. Others do not.
One problem for security services is that individuals who have only supported militants without acting violently themselves can easily and swiftly become bombers or gunmen in certain circumstances – such as the detention of a key member or orders from more senior commanders perhaps outside of the country.
Despite the global vision of the extremist ideologues and the portrayal of groups such as Islamic State and al-Qaida as international, however, such activism is fundamentally local.
Over the last decades, almost all attacks in Europe have involved local people attacking local targets with locally sourced materials and weapons. This is likely to be the case here too.